Introducing the 2021 Drug Trend Report
Navitus Delivers Industry-Leading All-In Net-Cost Savings
Managing pharmacy benefit costs is a challenge, and we know that making drugs affordable isn't just about the bottom line. It's about helping real people live their healthiest and fullest lives possible. That's why we work hard every day to make prescriptions more affordable for you and your members.

This has been our mission since our inception in 2003, and we're proud to announce we delivered once again in 2021.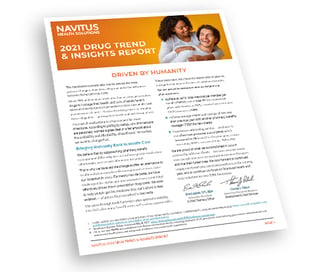 Last year, we helped our plan sponsors:

Achieve an all-in, total-net-cost per member per month (PMPM) cost of $84.37 for commercial plans with Navitus, a modest year-over-year increase of 1.5%.
Achieve average PMPM cost savings of 16% over their previous year with another pharmacy benefits manager (PBM) for new clients.
Experience outstanding service — as shown by our client net promoter score (NPS), which is increased from 72 in 2020 to 76, a super star rating. (NPS is measured from -100 to 100.)
Download a copy, to learn additional results and insights on how Navitus achieves lower cost and improved clinical outcomes.