CASE STUDY: COLORADO ACCESS
How Colorado Access achieved a more than 50% decrease in drug trend in the first year!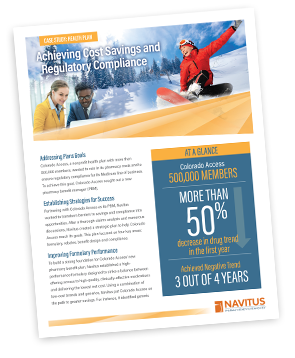 Colorado Access wanted to rein in its pharmacy costs and ensure regulatory compliance for its Medicare line of business. After deciding to partner with Navitus as its PBM, the two worked to convert barriers to savings and compliance into opportunities.
Navitus created a strategic plan to help Colorado Access to maximize PBM tools and reach its goals.
Through these efforts, Colorado Access achieved a negative drug trend in three of the first four years with Navitus.
How did they do it?
With Navitus' modern, alternative solution, ordinary PBM tools such as utilization management, fomulary and networks perform at a higher level to improve health more effectively and generate even more savings.
Download the FULL case study to learn more.