CASE STUDY: COMPASSION INTERNATIONAL
How Switching PBM Models Resulted in Double-Digit Savings in the First Year!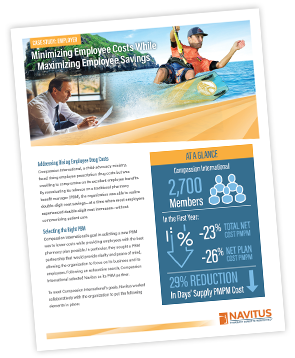 Compassion International, a child-advocacy ministry, faced rising employee prescription drug costs but was unwilling to compromise on its excellent employee benefits.
By reevaluating its reliance on a traditional pharmacy benefit manager (PBM), the organization was able to realize double-digit cost savings—at a time when most employers experienced double-digit cost increases—without compromising patient care.
By revisiting its existing PBM offering, Compassion International found a trusted partner that aligned with its interests and produced results.
How did they do it?
Compassion International gained the flexibility and guidance to fully realize its employee benefits vision, resulting in a co-developed benefit management strategy that combined its objectives with Navitus' transformative pass-through approach, lowest-net-cost philosophy, and outstanding clinical care model.
Download the FULL case study to learn more.