7 things you need to know about pharmacy benefit management (PBM) models!
Contracting with a pharmacy benefit management (PBM) company, is no small task. It's complex, confusing and requires a leap of faith to hand over the management of millions in pharmacy spend to a third party. This e-book will help you better understand the 'ins and outs' of PBM models. From helpful definitions to insightful comparisons and thoughtful questions you should ask, you'll feel more prepared the next time you consider a PBM.
Learn about the differences between traditional, pass-through and hybrid PBM models.
Plan sponsors who are 'in-the-know' can save 10-15% on their current pharmacy benefit costs.
Topics include: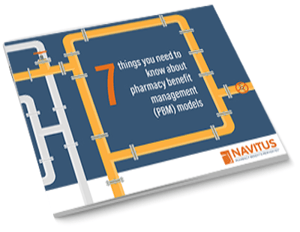 Different PBM contract types
PBM pricing practices
How rebate and incentives are aligned
The different types of savings guarantees
Variations in PBM transparency
Distribution channels and how to save on costs
Contract pricing and definitions