CASE STUDY: GOLDEN ENTERTAINMENT, INC.
How Golden Entertainment Achieved Double-Digit Savings in Just 4 Months!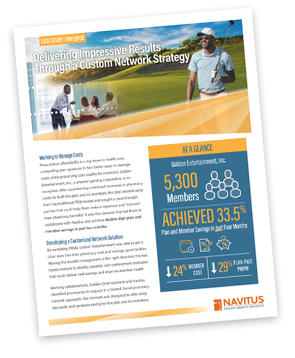 After experiencing continued increases in pharmacy costs for both the plan and its members, Golden Entertainment steered away from the traditional PBM model and sought a pass-through partner that could help them reduce expenses and "reinvent their pharmacy benefits." It was this decision that led them to collaborate with Navitus and achieve double-digit plan and member savings in just four months.

By switching PBMs, Golden Entertainment was able to get a clear view into their pharmacy cost and savings opportunities.
Moving the benefit management in the right direction, the two teams worked to identify possible cost containment strategies that could deliver real savings and improve member health.
How did they do it?
Using Navitus' unique pass-through PBM model ensures that all network reimbursement improvements, including all upside performance, are immediately passed through to the plan for the full life of the contract.
Download the FULL case study to learn more.