INTRODUCING OUR NEW E-BOOK
Key Insights Into How to Better Evaluate and Select a PBM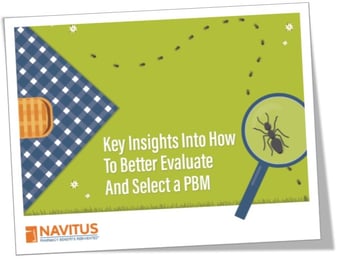 Evaluating pharmacy benefit management (PBM) value is never easy. Hidden costs, missing data and varying definitions can wreak havoc on the best of evaluations and skew PBM-to-PBM comparisons. Plan sponsors need a clear view into critical contract components so they can more effectively evaluate pricing, rebates and formularies across multiple PBMs.
EVALUATING PBM CONTRACTS
In this e-book, you'll have access to common definitions, sample contract language, and suggested questions to make sure you choose a PBM model that aligns to your goals.
E-BOOK TOPICS INCLUDE:
Formulary and Product Mix

Rebate Guarantee Caveats and Exclusions

PBM Administrative Fees

Using a common denominator to compare one PBM to another
ACHIEVE A BETTER PBM EVALUATION
Plan sponsors who've taken the time to learn from these insights have identified 10-15% in savings on their Rx benefits. DOWNLOAD THE E-BOOK NOW