INTRODUCING OUR NEW E-BOOK
How to achieve a waste-free formulary to lower your drug costs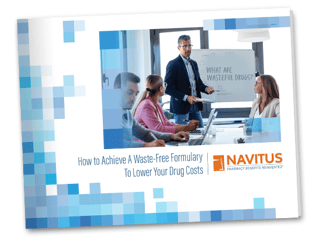 Formularies can often include drugs that have little to no clinical value and drive up costs. These are referred to as wasteful or low-value drugs. Some PBMs include them and some don't. Why? Some PBMs may have a financial incentive to favor drugs that earn spread revenue.
If your formulary contains wasteful or low-value drugs, you may be spending more than you should. To learn how to combat wasteful drugs, check out our E-book.
E-book topics:
What are wasteful drugs?

Why are they included on formularies?

How to create a waste-free formulary

How to lower costs, starting with your PBM contract and business model
Removing wasteful drugs goes beyond 'first-year' or a 'one-time' savings. When you switch to a waste-free formulary, you'll benefit year after year from lower costs, helping you keep drug trend low over time.
Download our e-book to learn more about wasteful drugs and how you can start saving now.
---
* Minemyer P, Health spending is likely to grow by 5.4% per year through 2028. Here's why, Fierce Healthcare, fiercehealthcare.com/payer/cms-actuaries-say-health-spending-likely-to-grow-by-5-4-per-year-through-2028-here-s-why, Published March 24, 2020, Accessed September 2020.
** Vela L, Reducing Wasteful Spending in Employers' Pharmacy Benefit Plans. The Commonwealth Fund. www.commonwealthfund.org/publications/issue-briefs/2019/aug/reducing-wasteful-spending-employers-pharmacy-benefit-plans, Published August 30, 2019. Accessed January 2020.

*** Navitus/Self-Insured Schools of California (SISC) case study, go.navitus.com/sisc_lp_cs.