INTRODUCING OUR NEW E-BOOK
PBM Transparency and How it Impacts Real Cost Savings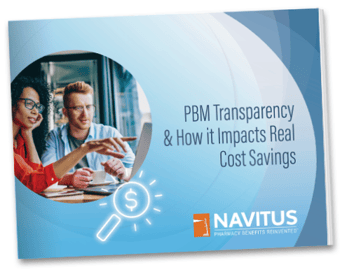 "Transparency" is a widely used buzzword across the pharmacy benefit management (PBM) industry, with varying definitions. With so much confusion in the industry, plan sponsors may think they have a transparent solution when they really don't.
To effectively manage costs you need to determine if you're getting true transparency from your PBM (or the PBMs that you are evaluating in a proposal).
That's why we created this e-book with a PBM scoring checklist.
E-BOOK TOPICS:
The Demand for Transparency (Overview)
What Does True Transparency Look Like?
Is Your PBM Aligned to Meet Your Needs?
The Transparency Checklist: How Transparent is Your PBM?
Learn more in our e-book:
PBM Transparency and How it Impacts Real Cost Savings
Plan sponsors who've taken the time to learn from these insights have identified 10-15% in savings on their Rx benefits. DOWNLOAD THE E-BOOK NOW