CASE STUDY: STATE OF MONTANA
How the State of Montana decreased their total net cost by 28.8 percent!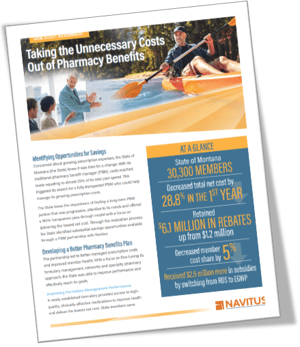 Concerned about growing prescription expenses of almost 20% of its total plan spend, the State of Montana (the State) knew it was time for a change. This triggered its search for a PBM who could help.
During the evaluation process, the State identified substantial savings opportunities available through a PBM partnership with Navitus.
Using cost reduction programs and strategies resulted in a 28.8% decrease in total net cost in the first year.
How did they do it?
Using Navitus' unique pass-through PBM model guaranteed that 100% of all discounts and rebates received were passed directly back to the State.
CASE STUDY HIGHLIGHTS:
Improving Formulary Performance
Creating Network Savings
Implementing a High-Touch Specialty Pharmacy Program
Download the FULL case study to learn more.