CASE STUDY: TEXAS ASSOCIATION OF COUNTIES (TAC)
How TAC achieved a 23% decrease in total net cost in the first year!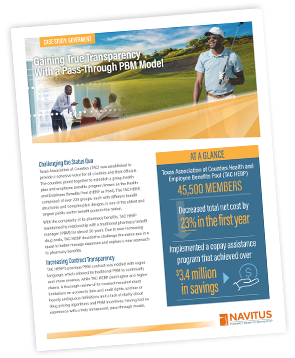 With the complexity of its pharmacy benefits, TAC maintained its relationship with a traditional pharmacy benefit manager (PBM) for almost 20 years. However, due to ever-increasing drug costs, TAC decided to challenge the status quo in a quest to better manage expenses and explore a new approach to pharmacy benefits.
Having had no experience with a truly transparent, pass-through model, TAC didn't realize how much more visibility into drug pricing and savings it could be getting.
Teaming up with Navitus, TAC implemented several programs to help improve member access to prescription drugs and contain costs for both the plan and its members.
How did they do it?
Navitus' transformative, pass-through PBM model, with visibility down to the claim and invoice level, gleans insight into where drug spend is going to get more out of pharmacy benefits.
Download the FULL case study to learn more.