CASE STUDY: UNIVERSITY IN THE MIDWEST
How one university experienced a 14% decrease in total net cost PMPM!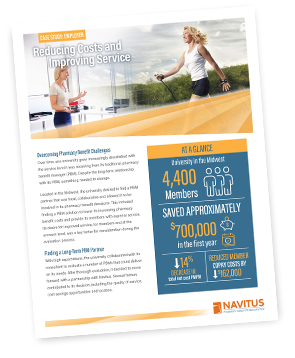 Over time, one university in the Midwest grew increasingly dissatisfied with the service level it was receiving from its traditional pharmacy benefit manager (PBM). Despite the long-term relationship with its PBM, something needed to change.
After collaborating with its consultant to evaluate a number of PBMs, the university decided to move forward with a partnership with Navitus.
The first year, the university's total net cost per member per month (PMPM) went from $87.56 with its previous PBM, down to $75.01 with Navitus, a 14% decrease.
How did they do it?
Navitus' collaborative, high-touch service and lowest-net-cost philosophy provides enhanced benefits and cost saving opportunities for the plan and members.
Download the FULL case study to learn more.